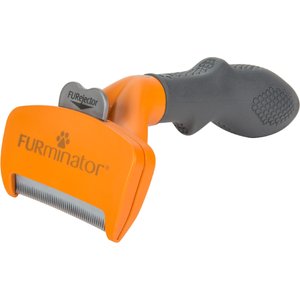 As a Labrador owner, the phrase 'dog shedding' probably sends shivers down your spine, doesn't it? Well, shed those worries along with your Lab's hair, because we've found the best dog brush for Labs – the FURminator Short Hair Dog Deshedding Tool. This comprehensive grooming solution is designed specifically for short-haired breeds like our faithful friends.

It gets under that short topcoat to remove the undercoat and loose hair, reducing shedding significantly and keeping your house and clothes fur-free. Sounds like a dream, right?

So, let's dive deeper into why the FURminator is the grooming tool you and your Lab have been waiting for.
Tailored for Every Size
Labradors, being medium to large breed, need a tool that caters to their size. The FURminator is available in small, medium, and large sizes, ensuring an optimal grooming experience for our Labs.
Stainless-Steel Edge: A Game Changer
The stainless-steel edge of the FURminator penetrates beneath the short topcoat of our Labs, effortlessly removing the undercoat and loose hair. No more finding hair on your favourite couch or black trousers!
The Comfort Factor
We all know how sensitive our Labs can be. The curved edge of the FURminator ensures it glides smoothly over your dog's skin, eliminating any discomfort while also adapting to your Labrador's natural build and shape. This means a happier, stress-free grooming session for both you and your furry friend.
Ergonomic Design for a Pleasant Experience
Grooming your Lab should not be a test of endurance. The FURminator, with its ergonomic handle, ensures a comfortable grip, while the FURejector button easily releases the collected hair, making cleanup a breeze.
Shedding? Not Anymore!
Say goodbye to shedding woes. With regular use, the FURminator can reduce loose hair shedding by up to 90%. Weekly grooming sessions can help maintain a cleaner home and a healthier coat for your Lab.
The FURminator in Action
As a personal user of the FURminator, I can vouch for its effectiveness. The tool is straightforward to use – a gentle stroke in the direction of your Lab's hair growth is all it takes.
A Comprehensive Grooming System
But that's not all. The FURminator is part of the FURminator Ultimate Hair Reduction System, a complete grooming kit including a brush, deshedding tool, bath, and maintenance products to give your Labrador the salon treatment at home.
Comparison with other Dog Brushes for Labs
Let's take a look at how the FURminator Short Hair Dog Deshedding Tool stacks up against other popular dog brushes on the market:
FURminator Short Hair Dog Deshedding Tool vs. Hertzko Self-Cleaning Slicker Brush: Both are great options for pet owners, but the FURminator stands out with its FURejector button that easily releases collected hair and the stainless-steel edge designed to target the undercoat. While Hertzko excels with its self-cleaning feature, it may struggle with thicker undercoats and be more prone to snagging, especially on dogs like Labradors.

FURminator vs. Pet Neat Pet Grooming Brush: Pet Neat's brush boasts an impressive 100mm stainless steel blade that's adept at removing loose hair. However, the FURminator, with its ergonomically designed handle and skin-guard design, offers a more comfortable and safe grooming experience for your Lab.

FURminator vs. Safari by Coastal Pin & Bristle Brush: This Safari brush is a traditional pin and bristle brush, which can help with tangles and surface hair but doesn't effectively reach the undercoat like the FURminator does. While the Safari brush might work well for short-haired breeds, for Labs with their dense double-coat, the FURminator provides a more thorough grooming experience.

FURminator vs. SleekEZ Original Deshedding Grooming Tool: The SleekEZ tool, while excellent for horses and larger livestock, can be a bit rough on our canine companions, particularly those with sensitive skin. The FURminator, on the other hand, is tailored for dogs, ensuring a comfortable and efficient grooming session for your Labrador.
Our Verdict
When it comes to choosing the perfect brush for Labs, it seems the FURminator Short Hair Dog Deshedding Tool stands head and tails above the rest. It's efficient, gentle, and built with your Labrador's comfort in mind. Now, shedding season won't feel like a year-round event!

So, fellow Lab parents, why not try turning those hair-pulling grooming sessions into bonding moments with the FURminator?