Ever felt like you're in a tug-of-war match with your Labrador Retriever during walks, with you on the losing end? You're in good company! Countless Lab owners navigate this pull-a-thon every day.

But imagine if I let you in on a secret that could transform these walkies from a game of strength into a pleasant stroll for both you and your four-legged power walker?

In this article, we'll dive deep into the world of harnesses specifically designed for Labs. We'll explore why choosing the right harness is essential, address common concerns

Labrador owners have, and provide comprehensive reviews of the best options available on the market. By the end, you'll be equipped with the knowledge to make an informed decision for your beloved pet.

So, let's get started, shall we?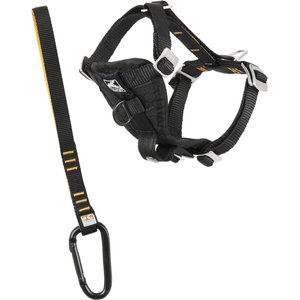 Enhanced strength crash
5 adjustment points for customization
Includes a seat belt loop
Pet seat belt can also be used as a short lead for training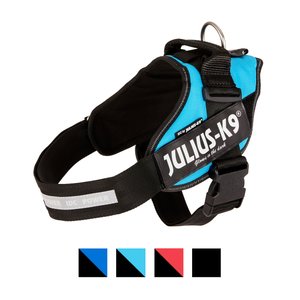 Designed for the needs of working dogs
Soft, breathable Eco-Tex inner liner
Handle-fixing option
Broad reflective chest strap and glow-in-the-dark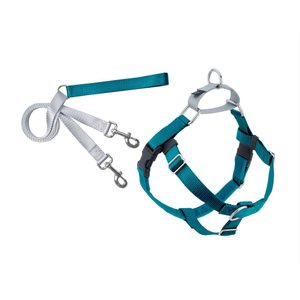 Included double connection training leash
Stainless steel hardware and heavy-duty nylon
Made in the USA with four points of adjustability
Patented design reduces twisting, straining, and pulling
---
Our Top 6 Choices of the Best Harnesses for Labrador Retrievers
---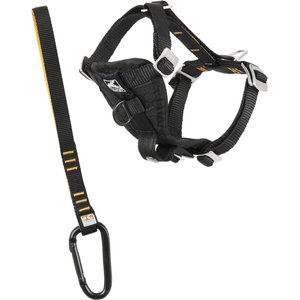 I recently bought the Kurgo Tru-Fit Enhanced Strength Crash Tested Smart Car Dog Harness from Chewy and was immediately impressed. Its crash-tested feature ensures safety during car rides, a top priority for me. The harness boasts a no-pull D-ring, five adjustable points, and a padded chest plate for comfort.

A standout feature is its seat belt loop tether, compatible with all car seat belt systems, doubling as a short lead for training. While the metal buckles took some adjusting, my Lab found it comfortable and unrestricted. Durable and versatile, this harness is perfect for both car rides and daily walks.

Highly recommended for those prioritizing canine safety and comfort.
Pros
Enhanced strength and crash-tested design
No-pull D-ring and 5 adjustable points
Seat belt loop tether included
Versatile use as both a car harness and a walking harness
Padded chest plate for added comfort
Cons
Metal buckles might take some getting used to during fastening
Limited color options
Some customers reported challenges in using the seat belt loop tether correctly
---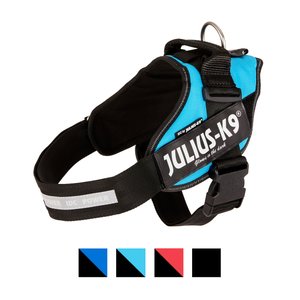 My experience with Julius-K9 IDC Powerharness has been overwhelmingly positive. The soft, breathable Eco-Tex inner liner ensures my Lab is comfortable during our walks, and the freedom of motion the harness offers means he isn't restricted in any way.

I've also been impressed by the water-repellent outer shell and the weather-proof buckles, perfect for our outdoor adventures regardless of the weather. Plus, the broad reflective chest strap makes nighttime walks feel safer.

The handle-fixing option also came in handy, allowing me to have more control over my Labrador during unexpected situations. For anyone with a larger breed like a Lab, I highly recommend giving this harness a try.
Pros
Designed for Working Dogs
Comfort: Soft, breathable Eco-Tex inner liner
Freedom of Movement
Nighttime Visibility
Weatherproof Buckles
Customizable Labels
Cons
Potential Fitting Issues
Cost
---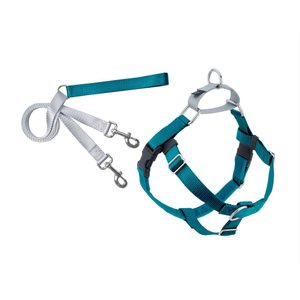 As a Labrador owner, I've tried my fair share of harnesses, and the 2 Hounds Design Freedom Harness has been amazing for our walks.

Firstly, I'm particularly fond of the patented design that targets the "opposition reflex" – it significantly reduces the pulling habit, making our walks far more enjoyable. The included double connection training leash offers two points of contact, enabling me to steer and redirect my Lab, especially during those squirrel-chasing moments!

The Swiss velvet lining behind the front legs has been crucial in preventing any rubbing and chafing, which was a major concern with our previous harnesses. It's clear that this harness is designed to keep the dog's comfort in mind. The quality feels durable with its stainless steel hardware and heavy-duty nylon.

The fact that it's made in the USA and offers adjustability for different dog body shapes seals the deal for me.
Pros
Double Connection Training Leash
Discourages the "opposition reflex,"
Swiss Velvet Lining
Four Points of Adjustability
Front Control Point and easy to use
Suitable for Different Lifestages
Cons
Possible Chafing despite the Swiss Velvet Lining
Durability
Cost
---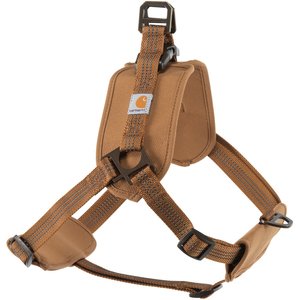 As I said in the previous paragraphs I've always been on the lookout for a durable and comfortable harness for my active furry buddy. What immediately stood out about the Carhartt Training Dog Harness was its fully adjustable design and the blend of nylon webbing with duck canvas weave which ensured durability.

I particularly appreciated the water-repellent coating bonded to the neoprene cushion, it provided the right balance of sturdiness and comfort.

The harness also included a heavy-duty plastic buckle and a custom-slotted metal D-ring for versatile lead attachment. One of its most notable features is the reflective triple needle stitch on the webbing which enhanced visibility during our evening walks.

Given the quality and thoughtful design, I believe this harness offers good value for the price.
Pros
Durable Construction
Comfort
Visibility
Brand Reputation
Positive Reviews
Cons
Stitching Concerns
Bulkiness
Expectation Mismatch
---
---
I recently decided to give the PetSafe Sure-Fit Harness a try, and I must say, it's worth it. My Lab has a tendency to pull during our walks, so the "paw-fection" description of the product really resonated with me.

The design, which includes two snap buckles, ensures a hassle-free experience when putting it on or taking it off. With 5 adjustable points, it provides a snug yet comfortable fit for my dog.

The durable nylon material promises longevity, and more importantly, it eliminates the pressure from my pup's throat, which was a crucial factor for me. I love the red color as it adds a vibrant touch during our outdoor escapades.

All in all, a worthy purchase for any dog owner looking for a blend of convenience and comfort.
Pros
Safe for the throat
On-and-off convenience
Durable material
Positive reviews
Easily adjustable at 5 points
Cons
Sizing issues
Heavy front metal "O" ring
---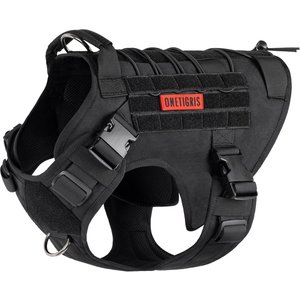 I've tried various harnesses to find the perfect fit, and the OneTigris Tactical Harness definitely stands out.

First off, its heavy-duty nylon shell combined with a soft interior padding ensures my dog's comfort while offering durability. The adjustable neck and chest straps provided a snug fit, ensuring it didn't slide around during our walks.

I particularly liked the MOLLE webbing on both sides which allows for attachment of pouches, perfect for our longer hikes. The control loop at the front came in handy for those instances when I needed to bring my Lab closer, and the crisscross bungee strap is a nice touch for extra storage.

Another great feature is the option to customize it with morale patches, and it even comes with a OneTigris patch. For its price point on Chewy, I find it to be a valuable purchase for medium-sized breeds like Labrador Retrievers.
Pros
Extra Features
Water-resistant
Versatile
Customizable
Durable Material
Cons
Plastic D-Rings
Potential Chafing
No Front Lead Ring
---
Our Selection Process – How we choose?
At LabraJoy, our dedication to offering reliable product recommendations is unwavering. Our selection process is meticulous and multi-faceted. We begin with hands-on testing of each product, ensuring we grasp its functionality and quality firsthand.

To further our understanding, we delve into customer reviews from a myriad of retail platforms, gleaning insights into real-world performance and potential product nuances. Strength, durability, and comfort are our top priorities when evaluating any item. But beyond these professional measures, our team, comprised of passionate pet owners, brings a personal touch.

We value the unspoken feedback our dogs provide, be it a joyful bark or a contented purr. Their reactions significantly influence our final decisions. In essence, our recommendations are a harmonious blend of professional scrutiny, real-world experience, and a genuine love for our furry companions.
Types of Harnesses Suitable for Labs
Labs, known for their playful nature and athletic build, often require specialized harnesses to ensure their safety and comfort during walks or training sessions. When looking for the best harness for a Labrador Retriever, it's essential to consider the different harnesses available in the market.
No-Pull Harness
The no-pull harness is a popular choice among Labrador owners. This type of harness is designed to discourage dogs from pulling by distributing the pressure across their chest and shoulders. The rabbitgoo dog harness is a notable example in this category. It's especially beneficial for athletic dogs like Labradors who have a tendency to pull on the leash.
Harness for Large Dogs
Given that Labradors are considered a large dog breed, harnesses designed for large dogs are ideal. These harnesses are built to withstand the strength of bigger breeds, ensuring that they don't break or wear out quickly. They often come with a handle at the top, allowing owners to have better control over their pets.
Puppy Harness
For those with a Labrador puppy, it's crucial to find a harness that caters to their size and growing needs. A puppy harness is typically adjustable and provides ample room for growth. It ensures that the young Labrador is comfortable and safe during its early stages of life.
Harness with Multiple Adjustment Points
Labradors come in various sizes. Hence, a harness with multiple adjustment points is a boon. It allows owners to customize the fit, ensuring that the harness snugly wraps around the dog without being too tight or too loose.
Harness with Padded Chest Plate
Comfort is paramount. A harness with a padded chest plate ensures that the Labrador doesn't feel any discomfort, even during extended walks or rigorous training sessions. This feature is especially beneficial for Labradors, known for their active nature.
How to Fit a Harness (Step-By-Step)
Ensuring that your dog's harness fits correctly is crucial for their safety and comfort. An ill-fitting harness can cause discomfort, restrict movement, or even lead to injuries. Here's a step-by-step guide to help you fit a harness perfectly for your Labrador:
1. Choose the Right Harness Size
Before you begin, it's essential to select the correct harness size. Measure your dog's chest and neck circumference. Most harness brands, especially those designed for labs like the dog harness for a Labrador, provide size charts to guide you.
2. Lay the Harness Flat
Start by laying the harness on the ground, ensuring all straps are fully extended. This will give you a clear view of the harness structure, making it easier to identify the top and bottom.
3. Position Your Dog
Gently position your dog over the harness. For a no-pull dog harness, ensure the D-ring is at the back, while the padded chest section is at the front.
4. Clip the Harness
Begin by fastening the clips around the chest and then move to the neck area. Some harnesses, especially the pet harness types, come with additional clips for added security.
5. Adjust the Straps
Once the harness is on, adjust the straps to ensure a snug fit. The harness size should be tight enough that you can only fit two fingers between the harness and your dog's skin. Remember, a loose harness can easily slip off, while a tight one can cause discomfort.
6. Check for Movement
Let your dog move around a bit. Observe if the harness stays in place or shifts. The best dog harness designs, like those made for labs, should stay centered and not restrict your dog's movement.
7. Attach the Leash
Finally, attach the leash to the D-ring. If you're using a no-pull pet harness, ensure the leash attachment is at the front, which helps in controlling dogs that pull.
8. Regularly Check the Fit
As your dog grows or gains/loses weight, the fit of the harness might change. Regularly check and adjust the straps to ensure continuous comfort and safety.
Conclusion
If you want to find the best harness for your Lab, you should read carefully all the reviews on our page. With the right product, not only you do ensure their safety, but you also provide them with the comfort they deserve.

When you use a harness or a leash, it's all about striking a balance between control and freedom. It's important to keep your dog comfortable while ensuring it's secure. So, invest some time in finding that perfect fit, and enjoy those peaceful, joy-filled walks with your loyal companion.