Ever found yourself pondering whether the collar adorning your Lab is really the crème de la crème of canine neckwear?

Given their zest for life and tireless enthusiasm, Labs need collars that are up to the task of their high-octane hijinks. The market's awash with choices, but let's face it – they're not all winners in the world of wagging tails and wet noses.
In this article, we'll dive deep into the world of collars, highlighting the absolute best for your beloved Lab. Ever heard the story of Max, the Lab who managed to break free from three different collars in a month? We'll get to that intriguing tale later. But first, let's address a concern many Lab owners share: ensuring their pet's safety and comfort.

With a staggering 72% of dog owners admitting they're unsure about their collar choice, it's high time we shed light on this crucial topic. Stay with us as we guide you through detailed reviews, ensuring you make an informed decision for your Labrador Retriever.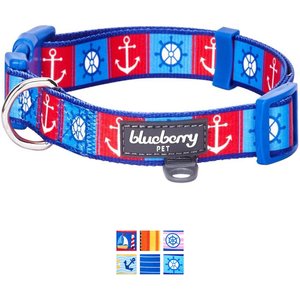 Aesthetically Pleasing
Machine Washable
Eco-Friendly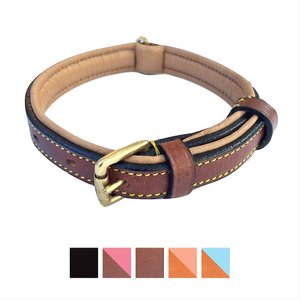 Handmade and Handstitched
Comfortable
Quality Material
Our Top 7 Choices Of Dog Collars for Labrador Retrievers
---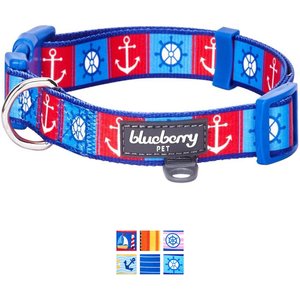 Finding the right collar for a Lab that is both functional and stylish can be a challenge. The Blueberry Pet Dog Collar caught my eye, and I must say it's been a fantastic purchase.

Firstly, the quality is top-notch, the tough grosgrain ribbon sewn onto the high-density polyester ensures durability. The nautical-themed patterns are absolutely adorable, adding a touch of charm to my Lab's appearance.

I particularly appreciate the eco-friendly plastic buckle, and the nickel-coated D-ring ensures secure leash attachment. Another plus is its machine washability, which makes it effortless to keep clean. The collar offers good stability, ensuring my Labrador's comfort during our outdoor escapades.

Highly recommend this collar and I think it's the best overall choice of the listed ones here!
Pros
Eco-Friendly
Durable
Aesthetically Pleasing
Machine Washable
Matching Leash Available
Cons
Plastic Buckle
Plastic Tag Holder
---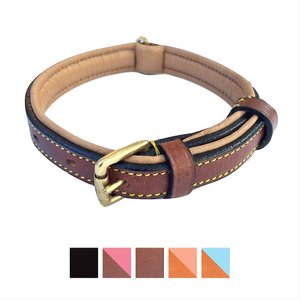 I've tried various collars, but the Soft Touch Collars Leather Collar has been one of my top picks.

The craftsmanship is impeccable, it's evident that this collar is handmade and handstitched, ensuring both style and longevity. The combination of sealed-edge, full-grain leather lined with plush sheepskin leather makes it incredibly comfortable for my Lab, without any chafing or irritation.

The solid brass hardware not only gives it a classy touch but also ensures durability with its rust-proof nature. I particularly appreciate the mini brass ring for ID tags and the strategically positioned leash D-ring for easy access. Moreover, the collar's two-tone design gives it a distinctive look. It's refreshing to have a product that beautifully merges aesthetics with functionality.

I'd highly recommend it to any dog owner, especially those with medium to large breeds.
Pros
Handmade and Handstitched
Aesthetic Appeal
Separate Ring for Tags
Comfortable
Quality Material
Cons
Not Suitable for Wet Conditions
Price
---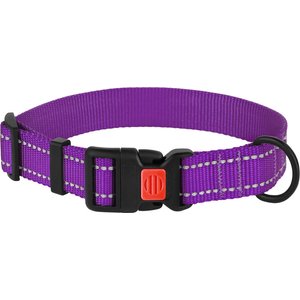 The soft nylon feels gentle on my dog's skin, and I'm particularly impressed with the non-allergic properties given my Lab has sensitive skin.

The vibrant orange color not only adds to my dog's charm but also doesn't fade over time, ensuring he always looks his best. The reflective quality of the collar provides that extra sense of security during evening walks.

The collar's dependable hardware is a significant plus for its price. I believe it offers great value for money.
Here are some pros and cons you can take from this product:
Pros
Reflective
Non-allergic
Color Retention
Cost-Effective
Aesthetically Pleasing
Cons
Plastic Clasp
Clasp Malfunction
Durability Issues
---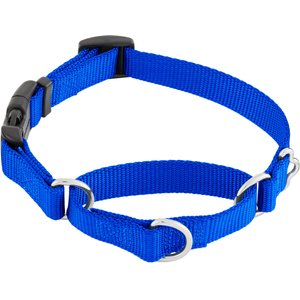 I've found the Frisco Solid Nylon Martingale Dog Collar to be very efficient for our walks.

The nylon webbing is exceptionally sturdy, having been tested to endure up to seven times the recommended weight for each size. This gives me peace of mind, knowing that it's resilient enough for my active Lab.

I also appreciate the side-release buckle feature, which makes it hassle-free to put on and remove. Furthermore, the double-loop design ensures added control, making it ideal for dogs like mine with narrower heads. The collar also boasts a sleek design with its nickel-coated hardware. I particularly liked the dedicated ID ring which allows me to attach ID tags without interfering with the leash.

All in all, a great purchase, delivering both functionality and style for my pup.
Pros
Convenience
ID Tag Ring
Aesthetics
Cleaning
Safety
Versatile Design
Cons
Durability with Chewers
Color Fading
---
The WANYANG Tactical Dog Collar stood out for me in several ways.

The adjustability is amazing, catering to medium and large dogs, making it ideal for my Lab. The heavy-duty metal buckle and the handle add a layer of security that's both practical for control and reassuring for the owner.

The collar's nylon material is durable, but I was particularly impressed by the inclusion of an inner cushion, ensuring comfort for my dog. The additional velcros and buckle ensure it stays in place even with the most spirited play.

At this great price, it offers value, though I did note some customers felt differently. Overall, this collar not only meets my functional requirements but also makes it great for my budget.
Pros
Handle
Heavy-Duty Metal Buckle
Material
Quick Release
Triple Security
Comes with Patches
Multiple Control Methods
Cons
Sturdiness
Durability Concerns
---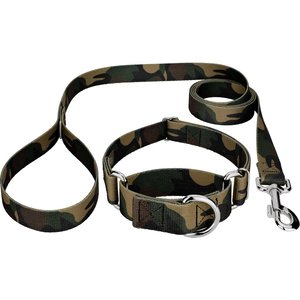 I'm quite impressed by Country Brook Design Collar. The camouflage pattern isn't just functional but adds a trendy flair to my dog's daily walks.

I particularly appreciate the martingale design which offers gentle corrective pressure when my Lab, ever so curious, tends to pull away. Crafted in the USA, the quality of both the collar and leash feel amazing with dependable hardware and material ensuring durability. What's more, it's hand-made, which is a testament to its meticulous craftsmanship.

The matching 6' leash is just the right length, giving my dog ample space yet allowing me control. It's reassuring to know that the product caters to a variety of sizes, though the medium fits my Labrador perfectly. For the price point, I believe it's a great value for its money. The fact that it ships quickly, coupled with the stellar customer service, makes this purchase a no-brainer for dog owners.
---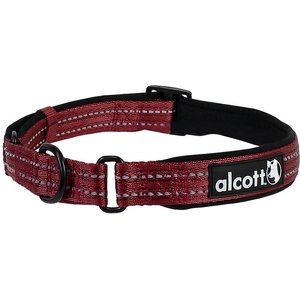 I've had my fair share of experience with various collars as you already understood.
When I purchased the Alcott Dog Collar for my Lab, I was immediately impressed by its design and functionality.

First and foremost, the reflective stitching is a game-changer, ensuring my dog is visible during our low-light evening walks. The collar's black neoprene material provides a comfortable padding, which my dog certainly appreciates. The fully adjustable design allows for a snug fit, which is essential given my Lab's knack for escapism.

Another notable feature is the sturdy metal D-ring, making leash attachment hassle-free. Beyond its features, the collar offers a secure alternative to other traditional collars like pinch and choke ones. Plus, it's available at a reasonable price, and the blue color looks striking against my Lab's coat. All in all, this collar strikes the perfect balance between style, safety, and comfort.
Pros
Reflective Stitching
Comfortable
Secure
Easy Attachment
Dries Quickly
Cons
Plastic Parts
Potential Confusion in Sizing
No Buckle for Easy Removal
---
The Right Collar Size for Your Lab
Choosing the right collar size for your Labrador is crucial. Not only does it ensure their safety and comfort, but it also prevents potential injuries. Here's a detailed guide to help you make the best choice.
Understand Your Labrador's Neck Size
First and foremost, measure your Labrador's neck. This is the foundation for selecting the best dog collars. Use a soft measuring tape, wrapping it around the thickest part of their neck. Ensure it's snug but not too tight. You should be able to fit two fingers comfortably between the tape and the neck.
Know the Different Types of Collars
There are various types of collars available, each suited for different needs and dog breeds:
Flat Collar: This is the most common type of collar. It's versatile and suitable for most Labradors. Ensure the collar comes with an adjustable feature to get the perfect fit.
Martingale Collar: Often referred to as the martingale collar, it tightens when the dog pulls but has a limit to prevent choking. It's especially useful for dogs that tend to slip out of their collars.
Leather Dog Collar: A leather dog collar is durable and often becomes more comfortable over time as it molds to the dog's neck. However, ensure it's genuine leather to avoid unnecessary wear and tear.
Consider the Purpose
Are you looking for a daily wear collar or something for training sessions? For daily wear, a flat collar or leather dog collar would be ideal. However, if you're venturing into training or have a Labrador that pulls a lot, a martingale collar might be more appropriate.
Check for Adjustability
An adjustable dog collar is a must. Labradors grow, and even as adults, their weight might fluctuate. An adjustable collar ensures that regardless of these changes, your dog remains comfortable.
Safety First
Always prioritize your Labrador's safety. Avoid collars that have sharp edges or parts that might come off and become a choking hazard. Also, ensure the collar would not tighten too much, risking injury to your Labrador.
Collar Materials
When it comes to dog collars for large breeds like Labradors, it play a pivotal role. Labs known for their strength and energy, require collars that can withstand their playful nature.

Here's a comprehensive guide on collar materials suitable for these large canines.
Nylon Collars
Durability: Nylon is one of the most popular materials for dog collars for Labradors. It's known for its durability and resistance to wear and tear.
Variety: The nylon collar comes in various colors and designs, making it easy for Labrador owners to find one that suits their pet's personality.
Adjustability: Most nylon collars are adjustable, ensuring the right size collar for both puppy collars and collars for adult Labradors.
Special Features: Some nylon collars come with added features like a reflective collar strip, ensuring visibility during nighttime walks.
Leather Collars
Aesthetic Appeal: Leather collars, like the Black Rhino Comfort Collar, offer a touch of luxury. They age gracefully, often becoming more comfortable as they mold to the lab's neck.
Strength: A collar made of genuine leather is robust and can handle the strength of an adult dog like a Labrador.
Personalization: Many leather collars offer personalized dog collar options, where you can have your Labrador's name or contact details engraved.
Webbing Collars
Material: The webbing collar is typically made from woven fabric or synthetic material, making it a strong contender for the best dog collar for labs.
Water Resistance: Some webbing collars are designed as waterproof collars, perfect for Labradors who love to swim.
Comfort: The collar is extremely comfortable, ensuring it doesn't irritate the dog's skin.
Specialty Collars
Training Collars: Training collars are designed for dogs that need a bit of guidance. They help in correcting behavior but should be used under expert guidance.
Reflective and Light-Up Collars: For those who walk their dog during early mornings or late evenings, a reflective dog collar or light-up collar ensures visibility, helping to keep your dog safe.
Personalized Collars: Personalized dog collars allow Labrador owners to add a personal touch, be it through colors, designs, or engravings.
Our Verdict
These reviews have hopefully shed light on the ideal collar materials for your beloved Lab. We understand the challenges in finding the perfect collar that combines both style and functionality. With so many options out there, it's easy to feel overwhelmed.

But, armed with the right knowledge, you can make an informed choice that ensures your Lab's comfort and safety. We'd love to hear from you! Share your experiences and let us know which collar worked best for your furry friend.