The task of choosing the right food for your Lab can be as challenging as persuading the dog not to chase the mailman.

Labradors, known for their endless energy and love for food, require a well-balanced diet to maintain a healthy weight and fuel their playful spirits. This guide will spotlight the top dog food options that cater specifically to the nutritional needs of our lovable dogs.

Spoiler alert: they're not all created equal. So, whether your Lab is a bouncing puppy, a sprightly adult, or a wise senior, we've got you covered. Prepare to dive into the world of premium proteins, essential nutrients, and specially formulated kibbles.

With these reviews, we will make sure your Labrador gets the best food while dodging puppy-dog eyes at dinner time!

Let's get started!
Our Top 10 Best Food For Labradors
The Best Dog Foods For Labradors Retrievers reviewed individually
The AAFCO nutrient profile guidelines for dogs are followed by all dog foods on this list. Make sure you consult your veterinarian before changing your dog's diet.
---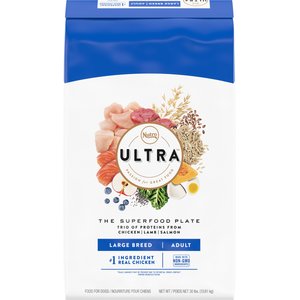 Main Ingredients: Chicken, Chicken Meal, Whole Brown Rice, Rice Bran, Whole Grain Oatmeal
Calories: 350kcal/cup
Life stage: Adult
Best for: Overall
Ever wondered what's the best food for Labradors? Check Nutro Ultra Large Breed Adult Dry Dog Food, where your Lab's taste buds and health needs cross paths. Picture this – protein-loaded bites with real chicken, lamb, and salmon, and chicken leading the parade.

The formula gets more exciting with 15 superfoods, including coconut, chia, kale, and blueberries, promising complete and balanced nutrition. The trusted farmers' contributions are non-GMO and meticulously checked for quality and safety.

Plus, no artificial flavors, colors, or preservatives – just pure, nourishing kibble. Go on, give your full-sized furball a taste of this meal, and watch them thrive!
Pros
High Protein Content
Nutrient-Rich Superfoods
Quality and Safety
No Harmful Additives
Designed for Large Breeds
Cons
Potential Allergenic Ingredients
Price
Taste Preference
Kibble Size and Texture
---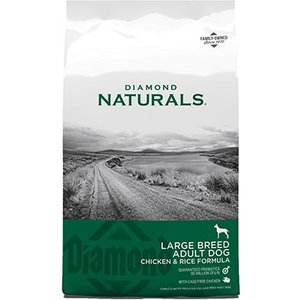 Main Ingredients: Chicken, Chicken Meal, Whole Grain Brown Rice, Cracked Pearled Barley, Ground White Rice
Calories: 327 kcal/cup
Life stage: Adult
Best for: Budget Food for Labradors
In the quest for the best budget food for Labs, Diamond Naturals Large Breed Adult Chicken & Rice Formula Dry Dog Food takes center stage. This product of a family-owned company uses top-quality ingredients from trusted domestic and global sources, and real cage-free chicken is the star.

It's expertly tailored for large breeds and features a nutrient-rich blend of superfoods like blueberries and oranges, along with glucosamine and chondroitin for joint support and omega fatty acids for skin and coat health.

The unique addition of species-specific K9 strain proprietary probiotics, antioxidants, and prebiotics further supports healthy digestion and overall wellness. The best part?

It's free from corn, wheat, artificial flavors, or colors. Treat your Labrador to this well-rounded, budget-friendly, and holistic diet from Diamond Naturals!
Pros
Quality Ingredients
Real Cage-Free Chicken
Nutrient-Rich Recipe
Joint, Skin, and Coat Support
Digestive and Immune Support
Free from Common Allergens
Price
Cons
Potential Chicken Allergies
Grain Inclusion
Taste Preferences
---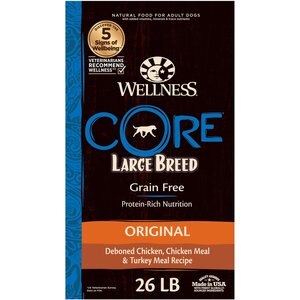 Main Ingredients: Deboned Chicken, Chicken Meal, Turkey Meal, Lentils, Peas
Calories: 342 kcal/cup
Life stage: Senior
Best for: Premium Food for Labs
Presenting Wellness CORE Natural Large Breed Dog Food, the premium choice for Labs that promises not only a tasty meal but also a bounty of health benefits. This grain-free dry food champions a balance of premium proteins like chicken and turkey, coupled with nutrient-rich superfoods, fruits, and vegetables.

What sets it apart is the larger kibble size, catering to our large furry friends' needs for easy eating. Moreover, it's fortified with antioxidants, probiotics, vitamins, minerals, glucosamine, chondroitin, and omega fatty acids, aimed at enhancing lean body mass, muscle tone, and a radiant coat and skin.

A unique blend of advanced natural nutrition, it assures whole-body health without any meat by-products, fillers, grain, corn, soy, wheat gluten, or artificial preservatives, colors, or flavors.

Make the wise choice with Wellness CORE, the top-tier, holistic, and natural food for your dog!
Pros
High-Quality Proteins
Nutrient-Rich Superfoods
Whole-Body Health Support
Grain-Free and No Artificial Additives
Larger Kibble Size
Cons
Poultry Allergies
Price
Taste Preference
---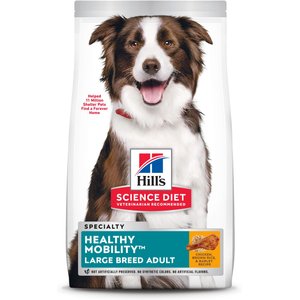 Main Ingredients: Chicken Meal, Brewers Rice, Whole Grain Sorghum, Brown Rice, Whole Grain Wheat
Calories: 367 kcal/cup
Life stage: Adult
Best for: Labs with Joint Problems

For Labs grappling with joint problems, Hill's Science Diet Adult Healthy Mobility emerges as the best choice. This diet is specially designed with large breeds' needs in mind, particularly their susceptibility to joint issues.

From day one, it sets out to bolster hip and joint health using natural sources of glucosamine and chondroitin, the fundamental components of robust cartilage. The balanced mineral profile fortifies strong bones, essential for Labs with joint problems.

High-quality protein and natural fibers are also present, ensuring your buddy feels satisfied between meals. This formula goes beyond joint health, incorporating omega-6 fatty acids and vitamin E to enhance skin health and bring a gleaming shine to your dog's coat.

Trust in Hill's Science Diet for a comprehensive solution to your Lab's joint problems.
Pros
Joint Health Support
EPA from Fish Oil
Bone Health
High-Quality Ingredients
Skin and Coat Health
Cons
Food Allergies or Sensitivities
Taste Preference
Price
---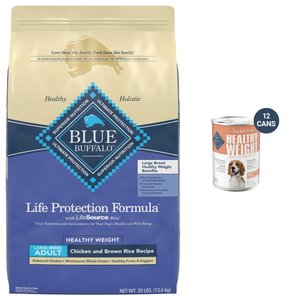 Main Ingredients: Deboned Chicken, Chicken Meal, Brown Rice, Barley, Peas
Calories: 323 kcal/cup
Life stage: Adult
Best for: Overweight Labs

In the quest for the best choice for weight control and overweight Labs, Blue Buffalo Life Protection Food steps up to the plate.

This specially tailored formula commences with protein-rich deboned chicken, championing lean muscle development, and is supplemented with L-carnitine to help reduce calories from fat.

It doesn't just stop at weight control, it also supports joint health and mobility with glucosamine and chondroitin nurtures healthy skin, and coats with Omega 3 and 6 fatty acids.

Packed with calcium, phosphorus, essential vitamins, chelated minerals, and antioxidants, it fortifies strong bones, and teeth, and bolsters the immune system. Best of all, it's devoid of common allergens like corn, wheat, soy, and chicken by-product meals.

Blue Buffalo's formula truly stands out as a comprehensive, health-conscious solution for maintaining a healthy weight in our Lab friends.
Pros
High-Quality Protein
Weight Management
Joint Health Support
Essential Fatty Acids
Free of Common Allergens
Cons
Poultry Allergies
Taste Preference
Price
---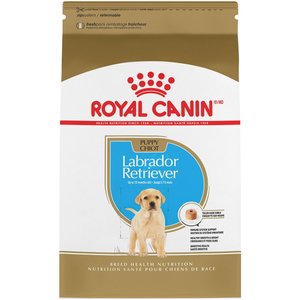 Main Ingredients: Chicken-By-Product Meal, Brewers Rice, Brown Rice, Corn Gluten Meal, Wheat Gluten
Calories: 308 kcal/cup
Life stage: Growth
Best for: Labrador Puppies
Searching for the perfect food for Lab puppies?

Consider the Royal Canin Breed Health Nutrition, crafted exclusively for purebred Lab puppies from 8 weeks to 15 months old. This unique formula features a specialized kibble that encourages slower eating and aids digestion with top-notch proteins and prebiotics, promoting optimal stool quality.

It also includes a specific blend of antioxidants, including vitamin E, that bolsters your pup's immune system.

The carefully balanced energy content supports a healthy weight, while the precise mineral content promotes bone and joint health.

Once your puppy surpasses 15 months, seamlessly transition them to Royal Canin Labrador Retriever Adult Dog Food for continued precise nutrition.
Pros
Tailor-Made Nutrition
Specialized Kibble
Immune System Support
Digestive Aid
Bone and Joint Health
Weight Management
Cons
Breed-Specific
Age Limit
Price
Availability
Allergenic Ingredients
Flavor Varieties
---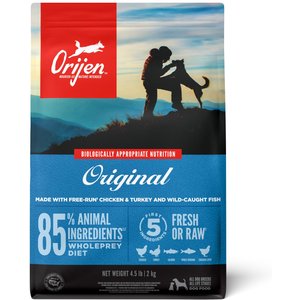 Main Ingredients: Chicken, Turkey, Salmon, Whole Herring, Chicken Liver
Calories: 473 kcal/cup
Life stage: Adult
Best for: Lab puppies and adults
ORIJEN Dry Dog Food, crafted with love in the USA from the finest global ingredients. Designed to mirror your dog's ancestral diet, this nutrient-packed food delivers a hefty 85% quality poultry and fish ingredients, ensuring your furry friend gets essential proteins, vitamins, and minerals.

Packed with fresh, refrigerated, or raw frozen components, this food guarantees peak freshness from the top five ingredients.

ORIJEN's signature WholePrey diet incorporates the juiciest parts of prey like meat, organs, and bone to cater to your dog's instinctual cravings.

This nutrient-dense animal-infused diet not only tantalizes taste buds but bolsters your dog's immune system and promotes a healthier digestive system, skin, and coat.

For a tail-wagging feast that fuels your dog's wild side while nourishing them fully, look no further than ORIJEN Dry Dog Food!
Pros
High-Quality Ingredients
WholePrey Diet
Supports Overall Health
Cons
Potential Allergenic Ingredients
Price
Availability
---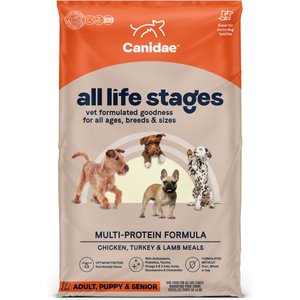 Main Ingredients: Chicken meal, turkey meal, lamb meal, brown rice, white rice
Calories: 506 kcal/cup
Life stage: All life stages
Best for: Lab puppies and adults
In your pursuit of the perfect food for all life stages, you may want to consider the CANIDAE All Life Stages Chicken, Turkey & Lamb.

This vet-formulated recipe is specifically crafted to suit dogs of every breed, size, and age, offering an all-in-one solution for both multi-dog and single-dog households.

Its nutritional profile is robust, offering optimal protein sourced from chicken, turkey, lamb, and fish meals, and it also includes a special blend called HealthPLUS Solutions, featuring probiotics, antioxidants, and essential fatty acids.

Free from common allergens like corn, wheat, and soy, it relies on premium ingredients plus added vitamins and minerals to deliver a tasty and nutritionally dense meal your furry friend will love.
Pros
All Life Stages Formula
High-Quality Proteins
HealthPLUS Solutions
Free of Common Allergens
Cons
Protein Sources
Taste Preferences
Price
---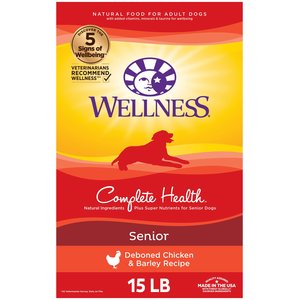 Main Ingredients: Deboned Chicken, Chicken Meal, Oatmeal, Ground Barley, Ground Brown Rice
Calories: 416 kcal/cup
Life stage: Senior
Best for: Senior Labs
If you are seeking the ideal food for senior Labrador, Wellness Complete Health Chicken & Barley might be a perfect choice. This natural dry food is meticulously formulated to provide comprehensive nutritional support for older dogs.

The recipe boasts premium proteins and wholesome grains, all enriched with beneficial omega fatty acids, antioxidants, glucosamine, probiotics, taurine, and beta-carotene. The food aims to encourage brain health, maintain energy levels, and foster healthy skin and coat, all while supporting overall wellness.

Plus, it's free from GMOs, meat by-products, fillers, and artificial preservatives, ensuring your senior dog gets nothing but the best.
Pros
Whole-Body Nutritional Support
High-Quality Ingredients
Beneficial Additives
No Harmful Ingredients
Cons
Taste Preference
Grains Included
Cost
Availability
---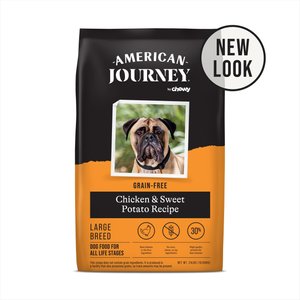 Main Ingredients: Deboned chicken, chicken meal, turkey meal, peas, chickpeas
Calories: 370 kcal/cup
Life stage: All life stages
Best for: Lab puppies and adults
American Journey Large Breed Chicken and Sweet Potato Recipe is an ideal food for large breeds like Labradors, with chicken as the top ingredient to support lean muscle development, energy, and overall health.

The larger kibble size caters to large breed dogs and is packed with balanced minerals, glucosamine, chondroitin, and natural fiber for joint and digestive health. This recipe offers a mix of nutrient-dense ingredients for balanced vitamins, minerals, and antioxidants.

Excluding unnecessary extras like corn, wheat, soy, or poultry by-product meals, it focuses on sources of nutrients your pup needs. This grain-free recipe, developed by Chewy with the expertise of pet-loving professionals, may contain trace amounts of grains due to its production in a facility that processes grains.

With a blend of delicious chicken, fruits, vegetables, vitamins, and minerals, it supports your large breed dog's health and satisfies their appetite.
Pros
High-Protein
Large-Kibble
Joint-Support
Digestive Health
Allergen-Free
Nutrient-Dense
Cons
Potential Grain Traces
Transition Required
Taste/Dietary Restrictions
---
Understanding Labrador Retrievers' Nutritional Needs
As the popularity of the Labrador breed rises in 2023, the need to comprehend their dietary needs becomes paramount. They're more than just a beloved pet or popular dog breed, they're members of the family.

Therefore, providing them with a balanced diet that meets their nutritional needs is crucial.
Energy Requirements for Labs
Labs are known for their high activity level and need a diet rich in energy to support their energetic lifestyle. Whether you're feeding your dog wet food, dry kibble, or a mixture of both, selecting the right food to match their energy needs is key.
Puppies: Labrador puppies need about 400 to 1000 calories per day, depending on their age and activity level.
Adult Labs: An active adult dog may require anywhere from 1500 to 2500 calories per day.
Senior Dog: Older Labradors tend to be less active and may only need about 1200 to 1600 calories per day.
This gives you a basic idea of the caloric intake your Lab needs daily. Your dog's activity level, age, and overall health will play significant roles in determining their dietary needs.
Protein Needs for Muscle Development
The protein content in your Labrador's diet plays a crucial role in muscle development and maintenance. High-quality dog food for Labs should contain at least 18% protein for adult dogs and 22% for growing puppies.

When choosing the best dog food for your Labrador, whether it's wet or dry, make sure to look at the label for the protein source. Quality dog food brands use real meat, such as chicken, beef, or fish, as their primary protein sources.

Limited-ingredient diets can also be a good option for dogs with food sensitivities or allergies to common protein sources.
Healthy Fats for Coat and Skin Health
Labs are known for their lustrous coat, and maintaining their shine requires a diet rich in healthy fats. High-quality dog food often contains essential fatty acids, like Omega-3 and Omega-6.

These fatty acids not only improve your Labrador's skin and coat health but also support their immune system, regulate body temperature, and promote proper brain development in puppies. A diet that includes DHA, a specific type of Omega-3 fatty acids, is especially beneficial for Labrador puppies.
Essential Vitamins and Minerals for Overall Well-being
Providing a balanced diet for your Labrador goes beyond the macros. Essential vitamins and minerals also play a critical role in your dog's overall well-being. Vitamins like A, B, D, E, and K, and minerals like calcium, phosphorus, and potassium should be present in their diet.

Selecting the best dog food for Labrador Retrievers can be challenging with the numerous options available in the market.

Always remember that high-quality dog food not only caters to their energy needs but also supports their muscle development, skin health, and overall well-being.
Avoiding Harmful Additives and Fillers
While scanning the label, look out for harmful additives and fillers. These may include artificial colors, flavors, or preservatives like BHA, BHT, and ethoxyquin, which are potentially harmful.

Also, avoid foods with too many fillers like corn, wheat, and soy, as they offer little nutritional value and can be hard to digest for some dogs with sensitive stomachs or food allergies.
| Ingredients to Avoid | Reasons to Avoid |
| --- | --- |
| BHA, BHT, Ethoxyquin | Potentially harmful preservatives |
| Corn, Wheat, Soy | Common allergens and can be hard to digest |
| Artificial Colors and Flavors | No nutritional value and potentially harmful |
Checking for AAFCO Certification
Lastly, look for the AAFCO (Association of American Feed Control Officials) certification. This ensures that the pet food has met the minimum nutritional requirements set by the organization.

Choosing the best food for your Labrador retriever can be tricky. Always remember that each dog may have individual needs and preferences.

It's often a good idea to introduce new food slowly into your dog's diet to monitor for any adverse reactions. What's your go-to dog food brand for your Lab? Any specific ingredients that you avoid? Share your experiences and let's learn together!
Choosing the Right Type of Dog Food for Labs
When it comes to the best dog foods for Labs, there isn't a one-size-fits-all solution. The ideal food for your dog largely depends on their specific nutritional needs, overall health, age, and preferences.

Let's break down the benefits and considerations for dry dog food, wet dog food, and raw food diets.
Dry Dog Food: Benefits and Considerations
| Benefits of Dry Dog Food for Labradors | Ingredients to Look Out For |
| --- | --- |
| Affordability | Whole meats (e.g., chicken, beef, or fish) |
| Convenience | Whole grains (e.g., brown rice, oatmeal) |
| Dental Health | Vegetables and fruits |
| | Omega-3 and Omega-6 fatty acids |
It's crucial to ensure that the dry dog food you choose is a high-quality product from a reliable pet food brand. Make sure it contains a good balance of proteins, carbs, and fats, along with essential vitamins and minerals.
Wet Dog Food: Pros and Cons
Wet dog food is another option for Labs. Here's what you should know:
Hydration: Wet dog food has a high moisture content, which can contribute to your Lab's hydration levels, especially if they don't drink a lot of water.
Highly Palatable: Thanks to its texture and smell, wet food is often more appealing to dogs and can be a good choice for picky eaters.
On the downside, wet food can be more expensive than dry food and has a shorter shelf life once opened. It also doesn't offer the dental benefits that dry food can provide.
Tips for Feeding Labs
Feeding your Labrador doesn't only mean choosing the best affordable dog food, but it also involves establishing good feeding habits. Let's look at some useful tips for feeding your beloved dogs.
Establishing a Feeding Schedule
Labs thrive on routine, so establish a consistent feeding schedule. This routine helps in regulating their digestive system and also prevents begging behavior.

For puppies, consider feeding them three to four times a day. As they grow older, you can gradually reduce feeding times to twice a day.
A feeding schedule may look like this:

Morning: Serve the first meal early in the morning.
Afternoon: For puppies, serve a midday meal.
Evening: Serve the second meal in the evening.
Final Words
Wrapping up our journey on choosing the best food for Labs, it's clear that the right nutrition is as vital as a loving home for these furry friends.

Every Lab is unique, so what works for one might not suit another. Your Lab's age, activity level, and health conditions are key factors in this decision. Don't hesitate to consult with your vet when in doubt.

Above all, watching your Labrador thrive on a diet that suits them is a joy every Lab parent deserves to experience.