Ever found yourself sipping morning coffee only to discover a stray Labrador hair floating atop? If you nodded in agreement, you're not alone.
Labradors come with a furry side effect: shedding. But why do these loyal companions shed so much? Is it just a sneaky ploy to mark their territory on your favorite sweater?
Dive in as we debunk myths, offer practical grooming tips, and explore the science behind your Lab's lavish locks. After all, understanding their shedding is more than just about maintaining a fur-free home, it's about ensuring their coat's health and vibrancy.
So, are you ready to embrace the fur-filled journey?
Why Do Labradors Shed so much?
Labrador Retrievers shed heavily due to their double-layered coats, mainly during seasonal changes like spring and fall and consistently throughout the year. To manage shedding, establish regular grooming and vacuuming routines, including daily combing and warm water baths for heavy shedding periods.
Stress or boredom may cause increased shedding, so ensure sufficient exercise, stimulation, and attention during those times.
Labrador retrievers shed their hair regularly. This process of shedding old or damaged hair is entirely normal, allowing new hair to grow in its place. Much like us shedding dead skin cells and regenerating new ones, shedding in Labradors helps maintain the health and vitality of their coats.
The amount of shedding varies between individual dogs and largely depends on their health and diet. Well-nourished Labradors tend to have healthier coats and may shed less excessively than dogs with poor nutrition. Regular grooming using a slicker brush can help manage this shedding and keep your Lab's coat looking lustrous.
What Months Do Labs Shed the Most?
Labrador shedding isn't consistent throughout the year. Understanding the monthly variations can help you anticipate and manage their grooming needs effectively.
January to March (Winter to Spring Transition): Expect a significant increase in shedding as your Lab sheds its winter coat to accommodate the warmer spring temperatures.
April to June (Spring): Consistent shedding will prevail, with the need for regular grooming to manage the loose fur and ensure a clean, healthy coat.
July to September (Summer to Fall Transition): As the weather cools, your Lab will shed its lighter summer coat, making way for the denser winter coat, necessitating increased grooming sessions.
October to December (Winter): While the shedding slightly subsides compared to the molting seasons, expect consistent, mild shedding throughout the winter months.
The following table gives a quick overview of the Labrador shedding level throughout the year:
| Time of Year | Labrador Shedding Level |
| --- | --- |
| Winter (December to February) | Moderate |
| Spring (March to June) | Very High |
| Summer (July to August) | Moderate |
| Fall (September to November) | High |
What Is a Double Coat?
Labrador retrievers are equipped with a double coat that consists of two layers: the undercoat and the topcoat.
1) Undercoat
This is the lower layer of fur that you'll find close to the Labrador's skin. It's dense, soft, and fluffy, and its primary purpose is to insulate your Lab, keeping them warm in the winter and cool in the summer.
The undercoat is the main culprit behind the heavy shedding, especially during the molting seasons when Labs shed their winter or summer undercoats.
The function of the undercoat is to provide insulation against both cold and heat, creating a sort of thermo-regulating system for your Lab. It's nature's way of ensuring that Labradors can comfortably handle a variety of weather conditions.
2) Topcoat
Also known as the guard coat, this layer comprises longer, coarser hairs. These hairs are water-resistant, which helps to keep your Lab dry when they're doing what they love best – swimming! This layer doesn't shed as much as the undercoat but still contributes to the year-round shedding.
The Function of the topcoat is to protect your Lab's skin from sunburn and insects, and its water-resistant properties keep your Lab dry during their water escapades.
The Impact of the Double Coat on Shedding
Now, how does the double coat factor into Labrador retriever shedding?

In simple terms, because there are two layers of fur, there's essentially twice as much fur to shed. But the shedding isn't distributed evenly between the two layers. The undercoat is the major contributor to shedding, particularly during the molting seasons when it's replaced.

The top coat tends to shed less and more consistently throughout the year. It is this year-round, consistent shedding of the topcoat that leads to the moderate shedding you'll notice even outside of the molting seasons.
Factors Influencing Labrador Shedding
While Labrador retriever shedding is a natural process, some factors can affect the amount and frequency of shedding. Let's delve deeper into these factors and their impact on your Labrador's coat health and shedding habits.
Impact of Diet on Shedding
It's no secret that a healthy diet contributes significantly to a dog's overall well-being, and this is particularly true when it comes to their coat.

Diet plays a crucial role in the health and vitality of your Labrador's coat. A balanced diet rich in proteins, Omega-3 fatty acids, and other essential nutrients ensures your Lab's coat stays healthy and shiny. Conversely, an unbalanced or low-quality diet can lead to a dull coat and increased shedding.

Here's a brief overview of the impact of diet on Labrador shedding:
| Diet | Impact on Shedding |
| --- | --- |
| A high-quality, balanced diet | A balanced diet keeps your Lab's skin healthy, which can reduce excessive shedding. |
| Poor quality, unbalanced diet | This can lead to an unhealthy coat and increased shedding. |
| Supplementation (Omega-3s, etc.) | Omega-3 fatty acids, found in fish oil, help to improve skin and coat health, potentially reducing shedding. |
Role of Health and Potential Health Issues
Labs health conditions can affect their skin and coat. Certain health issues can cause excessive shedding in Labrador retrievers. If you notice an increase in your Lab's shedding, or if the shedding is accompanied by other symptoms such as skin irritation, it might be time to visit the vet.
Some health issues that can lead to increased shedding include:
Skin infections or allergies: These can cause your Labrador to scratch more, which can in turn lead to more hair loss.
Hormonal imbalances: Conditions like hypothyroidism can lead to hair loss in dogs.
Parasites: Fleas, mites, or other parasites can cause increased scratching and hair loss.
Dietary deficiencies: As mentioned earlier, an unbalanced diet can lead to poor coat health and increased shedding.
Influence of Stress and Environment
Lastly, the environment and stress levels can influence Labrador shedding.

Stress can cause a myriad of health problems in dogs, including excessive shedding. Environmental factors such as a change in the weather, moving to a new home, or introducing a new pet or family member can lead to increased stress levels in your Lab, which can, in turn, lead to more shedding.

On the environmental front, the climate can play a role too. If you live in a region with distinct seasons, you may notice your Lab sheds more during the transition from winter to spring and from summer to fall.
Labrador Shedding Through Different Life Stages
Labrador Retrievers, with their delightful personalities and loyal demeanor, also bring along a flurry of fur, especially as they transition through different life stages. Understanding the nuances of their shedding patterns from puppyhood to senior years can equip you with the knowledge to manage it effectively.
1. Puppyhood (Up to 1 Year)
Labrador puppies typically have a softer, finer coat that will gradually be replaced by a denser adult coat. During the transition, usually around six months, expect a notable increase in shedding as the puppy coat makes way for adult fur.
2. Adult Stage (1-8 Years)
Adult Labradors will shed consistently throughout the year, with peaks during the spring and fall. This is when they'll molt, replacing their seasonal coats and requiring diligent grooming to manage the excess fur.
3. Senior Stage (8+ Years)
Senior Labs may experience changes in their coat and skin due to aging and related health issues. Their skin may become more sensitive, and attention to gentle, regular grooming is pivotal to manage shedding and ensure skin health.
How to Reduce Labrador Shedding?
To Reduce Labrador Retrievers shedding can be managed effectively through regular grooming, a balanced diet, and regular exercise.
Importance of Regular Grooming
Regular grooming is an essential aspect of managing Labrador shedding. Brushing your Labrador helps to remove the loose hair that contributes to heavy shedding. It also helps distribute natural oils throughout your dog's coat, promoting healthier skin and reducing the amount of hair shed.

To effectively manage the shedding, it's recommended you brush your dog outside, reducing the amount of hair in your house. Use a slicker brush or a de-shedding tool to reach the undercoat, where most of the loose hair tends to be.
This process will help you reduce the amount of shedding in your Labrador, making the shedding more manageable. Always choose the best brush for your Labrador and don't compromise.

When bathing your Labrador, try not to bathe your Labrador excessively. Bathing too often can dry out your dog's skin and may lead to increased shedding. Instead, bathe them only when necessary, using a dog-friendly shampoo to help maintain the health of their coat and skin.
The Role of Diet and Hydration
What you feed your Labrador also plays a crucial role in managing Labrador shedding. Dogs need a diet rich in protein, which is the primary building block for healthy fur and skin.
Including Omega-3 and Omega-6 fatty acids in your Labrador's diet can also improve skin health and decrease shedding. Therefore, you might want to choose the best dog food formulated to promote a healthy coat. Always remember to consult your vet before making any significant changes to your dog's diet.

Hydration is another critical aspect of reducing Labrador shedding. Dehydrated dogs often experience dry skin, which can lead to increased shedding. Ensure your Labrador has constant access to fresh water, particularly during hot weather.
The Impact of Regular Exercise
Exercise can also impact shedding in Labrador retrievers. Regular physical activity helps to improve circulation, which promotes healthier skin and a healthier coat.
While exercise won't eliminate shedding, it can contribute to the overall health of your Labrador's coat, potentially reducing the amount of hair they shed.
Tools and Techniques for Managing Shedding
As a Labrador parent, managing shedding is an integral part of keeping both your home clean and your Lab healthy. Having the right tools and techniques at your disposal can make this task much more manageable. In this section, we'll discuss various grooming tools, bathing routines, and cleaning tips to help you keep Labrador retriever shedding under control.
Overview of Grooming Tools
Proper grooming is essential to manage the shedding of Labrador retrievers. Some grooming tools you may find useful include:
1. Brushes
Different brushes serve different purposes when it comes to dealing with shedding. Slicker brushes are great for removing loose hair from your Labrador's topcoat.
Pin brushes, on the other hand, are ideal for tackling tangles and mats. Brushes are an essential tool in managing the amount of hair your Labrador sheds daily.
2. De-shedding Tools
De-shedding tools are specially designed to reach the undercoat of your Lab, where much of the shedding originates. Using a de-shedding tool can help reduce the amount of hair that your Labrador sheds. The best one Is The FURminator Brush.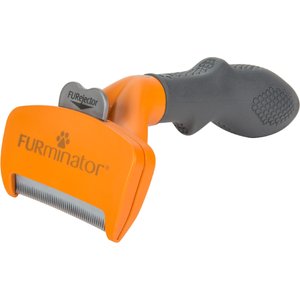 Pros
Custom Design
Efficient Grooming
Comfort for the Dog
Ergonomic Handle
Cons
Specificity
Potential Learning Curve
Maintenance
Frequency of Use
Cost
| Grooming Tool | Purpose |
| --- | --- |
| Brush | Removes loose hair, helps distribute natural oils, and prevents tangles |
| De-shedding Tool | Reaches the undercoat to remove loose hair and reduce shedding |
Bathing Routines and Tips
Bathing your Labrador plays a crucial role in managing shedding. Bathing too often can dry out their skin, leading to increased shedding. Try to bathe your Labrador once every one to two months unless they get particularly dirty.

When bathing, use a dog-friendly shampoo designed to moisturize their skin and improve the health of their coat. This can help reduce shedding. After bathing, brushing your dog can remove any loose hair, further minimizing the amount of hair in your home.
Vacuuming and Cleaning Tips
Despite your best efforts, some Labrador hair will inevitably end up in your home. Regular vacuuming can help manage this. Consider getting a vacuum designed for pet hair, as these are usually more effective at picking up stubborn dog hair from carpets and upholstery.

Another tip is to have a designated area for your Labrador to sleep and spend most of their time. This can localize the shedding to one area, making cleaning up easier.
Misconceptions about Labrador Shedding
Labrador retrievers shed, and they shed a lot. It's a fact every Labrador parent quickly becomes familiar with. A few common misconceptions about Labrador shedding need to be debunked. In this section, we will address these misunderstandings and help you better understand the shedding in Labrador retrievers.
Debunking the Idea of Shaving a Labrador
One of the biggest misconceptions about managing Labrador shedding is the idea of shaving the dog's coat. While it might seem like a quick solution to the hair in your house, it's not advisable for several reasons.
1. Protection from the Elements
Labradors have a double coat, which protects them from both the cold and the heat. Shaving this coat can make your Labrador more susceptible to temperature extremes and could lead to health issues such as sunburn or hypothermia.
2. Health of the Coat
Shaving can also damage your Labrador's coat. When the coat regrows, it may not have the same texture or density as before. This can lead to uneven shedding and potential skin issues.
3. Doesn't Reduce Shedding
Contrary to what some believe, shaving your Labrador won't stop them from shedding. The hair will simply be shorter when it falls out.
Understanding the Difference between Normal and Excessive Shedding
It's essential to understand the difference between normal and excessive shedding in Labrador retrievers. Labs shed a lot naturally, with peaks during the shedding season, typically once or twice a year. This is a normal part of the Labrador's life cycle.

If you notice excessive shedding or bald patches on your Labrador's coat, this may be a sign of an underlying health issue, such as allergies, skin infections, or hormonal imbalances. In these cases, it's important to consult with your vet to rule out any potential health problems.
| Type of Shedding | Characteristics |
| --- | --- |
| Normal Shedding | Occurs throughout the year, with peaks during the shedding season |
| Excessive Shedding | A sudden increase in shedding, bald patches, or other changes in the coat |
When to Seek Veterinary Help
As a Labrador parent, it's important to understand that Labrador retrievers shed, and they shed quite a lot. It's equally crucial to recognize the difference between normal and abnormal shedding. If your Labrador starts shedding more than usual or develops bald patches, it's a sign that you need to seek veterinary help.
Identifying Signs of Abnormal Shedding
Abnormal shedding is different from the Labrador's usual shedding level and it's often accompanied by other symptoms. Here are some signs that your Labrador's shedding is not normal:
1. Excessive Shedding: If your Labrador is shedding so much that their coat is noticeably thinning or there are bald patches, it could be a sign of a health issue.
2. Changes in Texture or Color: Changes in the texture or color of your Labrador's coat can also be a symptom of a problem. The coat may become dry, brittle, dull, or discolored.
3. Other Symptoms: In addition to abnormal shedding, if your Labrador is experiencing symptoms like itching, inflammation, redness, sores, or changes in appetite or behavior, these could be signs of a health problem.
Potential Health Issues Related to Excessive Shedding
Several health issues could cause excessive shedding in Labrador retrievers. Some of the most common include:
| Health Issue | Description |
| --- | --- |
| Allergies | Allergies to food, environmental factors, or certain materials can cause excessive shedding. |
| Parasites | Parasites such as fleas, ticks, or mites can lead to abnormal shedding. |
| Hormonal Imbalances | Conditions like hypothyroidism can cause excessive shedding. |
| Skin Infections | Bacterial or fungal skin infections can lead to increased shedding. |
| Stress | High levels of stress or anxiety can result in abnormal shedding. |
If you notice abnormal shedding or any other symptoms of illness in your Labrador, it's crucial to seek veterinary help immediately. Timely treatment can help resolve the issue and prevent potential complications.
Conclusion
Understanding that Labrador retrievers shed is a crucial part of being a responsible Lab parent. Sure, you might find yourself living in a house that looks like it's been dusted with a fine layer of Lab hair, and you may even find some in your morning coffee.
But hey, that's all part of the fun, right? These dogs may shed more than others, and managing Lab shedding may feel like a part-time job, but the joy and companionship they bring are worth every single hair!

Whether your Lab is black, yellow, or chocolate, shedding is a fact of life you need to be prepared for. The key is to stay on top of grooming, feed a balanced diet, provide plenty of exercise, and seek veterinary help if you notice excessive shedding.

So now, it's your turn to share! How much does your Lab shed? Do you have any grooming tips or hilarious Lab-hair-covered stories to tell? A day without dog hair is like… Just kidding. We have no idea. Let's embrace the furry love, one hair at a time!